Staffordshire Ambassador Event
***Registration for this event has now closed***
Following the launch of our Staffordshire Story and placemaking identity in 2020, we have launched a series of Ambassador events to showcase exciting projects and success stories from businesses across Staffordshire. With a line-up of inspirational speakers, you'll hear about the latest developments and businesses that are shaping our great county.
We are delighted to invite you to our January Staffordshire Ambassador Event: A Place to Learn and Grow, held at The Catalyst, Staffordshire University.
For our first Ambassador Event for 2023, we'll be celebrating Staffordshire as a place of learning and continual growth, featuring an inspirational mix of organisations and institutions who are supporting the county's educational and skills agenda – equipping people with the skills and experience to ensure we are well-placed to support industry and innovation of future generations.
We'll be exploring:
How a Staffordshire restaurant and bar group is challenging perceptions of the hospitality industry as a career choice, one chef and server at a time!
Why our educational institutions are integral in supporting and contributing students into the local employment pool, through a case study of Keele Medical School and University Hospital of North Midlands.
How one global brand has taken the future skills development of the workforce of tomorrow into its own hands.
What Newcastle and Stafford Colleges Group's Institute of Technology campus and courses will mean for the people of our county, of all ages.
Presentations will be followed by a Q&A with all of the speakers, chaired by Martin Tideswell, Director of Communities and Commercial Engagement, Staffordshire and Patrons of We Are Staffordshire.
Afterwards, network with guests and take a tour of Staffordshire University's new Catalyst Building at your leisure!
Event speakers:
Louisa Shaw, Place Brand Manager
Martin Tideswell, Director of Communities and Commercial Engagement, Staffordshire and Patrons of We Are Staffordshire
Chris Childs, Commercial Director, Parogon Group
Professor Pauline Walsh, Dean of Faculty of Health, Keele University
Jenny McGuirk, Principal, JCB Academy
Jason Lancaster, Director of the Institute of Technology & Employer Partnerships, Newcastle and Stafford Colleges Group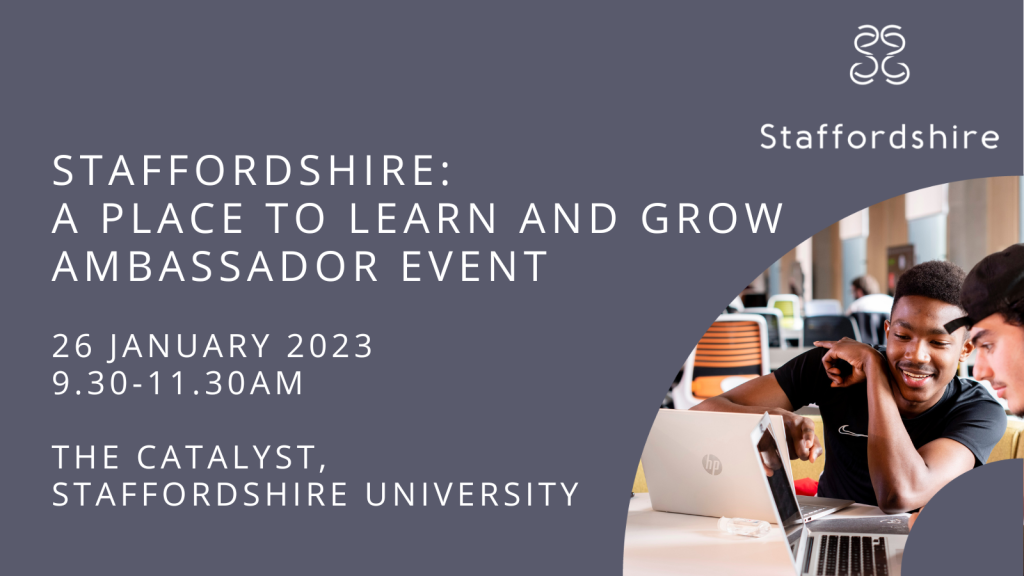 Event Details
The Catalyst, Staffordshire University
26th January 2023
9:30 am-11:30 am