County's apprentices celebrate
More than 70 apprentices from across Staffordshire have attended a special ceremony to celebrate the completion of their apprenticeships.
Joining the students were employers, training providers and their families, as they took to the stage to receive their awards.
The Staffordshire and Stoke-on-Trent Apprenticeship Graduation ceremony, now in its eighth year, recognises the achievements of the county's apprentices.
Laura Burgess, a team leader with Staffordshire County Council's Trading Standards service, completed her Level 3 in Leadership and Management apprenticeship earlier this year with Newcastle and Stafford Colleges group.
Before taking to the stage, Laura said:
"I thoroughly enjoyed my apprenticeship, and the timing was great.  I basically started my training just as I secured a leadership role in the Trading Standards team at the council.

"Not only did the apprenticeship complement my new role, but I was able to directly apply the learning and theory to leading and managing the team I was responsible for.  I have also found this has helped me reflect on how I am as a person in terms of where my strengths and any weaknesses are.  I am incredibly grateful for having the opportunity to undertake this apprenticeship, which not only benefits me but my employer too.  I would urge others to consider taking the apprentice route as it's a great option."
Kim Homer, aged 32 from Willenhall, completed the Level 3 Apprenticeship in Team Leader and supervisor with PTP training.  Kim who works for Blakemore said:
"I started my apprenticeship during COVID-19, which was all a bit strange.  All my learning was managed online, the sessions were delivered via Teams as opposed to a classroom environment, but that didn't affect the content delivered or the interaction.

"Doing my apprenticeship was great and my tutor and team were very friendly and supportive which was brilliant.  I would recommend an apprenticeship to others as it allows you to earn a qualification alongside your paid role, as well as learning / building knowledge whilst delivering your current role."
18-year-old Vinny-Lee Brennan completed his Level 2 apprenticeship in hair dressing at Newcastle and Stafford College Group (NSCG) earlier this year.
Vinny, who's gone on to follow in his mum's footsteps by opening his own hair salon, said:
"Doing an apprenticeship was great for my career and has basically allowed me to achieve my goal to open my own salon.  It has given me many opportunities to improve my technical abilities and knowledge on hair.  My assessor Karen really pushed me throughout my time at college, which led to me working hard to reach for a high distinction, which I achieved.

"I also entered and won Quiff Centre Stage, a national hairdressing competition, which was amazing.  All the hair department staff were very supportive of this.  Now only four months after qualifying, I have opened my own hair salon in Congleton and I'm running it successfully. Both my assessor and my employer (during the apprenticeship) have played a key role in preparing me for this new chapter in my life.

I would absolutely recommend doing an apprenticeship to others looking for on the job training and a route to a great career."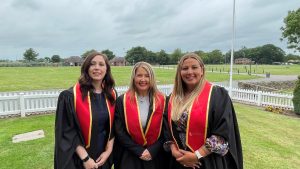 Apprenticeships at this year's event included engineering, business administration, hairdressing, teaching, health & social care and many others.
Philip White, Deputy Leader and Cabinet Member for Skills and Economy at Staffordshire County Council said: "Apprenticeships are a really important part of growing the Staffordshire economy and attracting more and better paid jobs to the county.  They not only provide people with a good qualification, good practical experience and a good career path to their ideal job but also give many of our businesses the opportunity to grow their own skilled workforce.

"Events such as this and the Apprenticeship Ladder really do help raise the profile of apprenticeships and I would encourage people to consider them as a great way of launching their career.  I would like to say a huge well done to everyone graduating at this year's event and wish them well in their chosen careers."
Sponsors of this year's graduation ceremony included KMF Group, Acacia Training, Staffordshire Partnership for Employment and Skills (SPES), Staffordshire Chambers of Commerce, Staffordshire University, Newcastle and Stafford Colleges Group (NSCG) and West Midlands Apprenticeship Ambassador Network (WMAAN)
The event was held on Tuesday 27 June at the County Showground in Stafford.
Further information on apprenticeships is available by searching online for Staffordshire Apprenticeship Ladder.
Group shot, Cllr Alan White, Leader at Staffordshire County Council with Staffordshire apprentices, Laura Burgess, Clare Williams, Kelly Ash and Vinny-Lee Brennan