Digital Society Institute launches at Keele University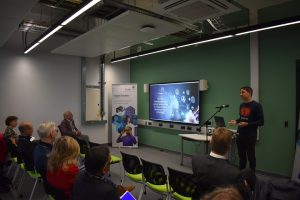 Keele University's new Digital Society Institute, housed inside the new Innovation Centre 7 building on the Keele campus, was officially launched this week with an event on campus. 
The new Institute has been created to both address the challenges, and make the most of the opportunities, created by the digital revolution. 
The vision for the Digital Society Institute is to enable scientific breakthroughs and societal transformation through data science and digital technology. The institute brings together expertise, such as in data analytics, artificial intelligence, and ethics and regulations, from across Keele University to achieve this goal, uniting researchers, students, and businesses to make a positive difference to society, creating new partnerships, and contributing at regional, national, and international levels.  
The new institute will enable national and international visibility for Keele's world-leading research. The institute will also benefit the local community – sharing research expertise with relevant sectors including health, business, energy, and computing. With academic expertise to develop research partnerships, support programmes, and talented students and graduates on hand, the institute is specifically designed to support businesses and other organisations to capitalise on the opportunities created by the digital revolution.  
Facilities inside the building include a Data Visualisation Suite, a Virtual Reality (VR) room, a conference area, a digital training space, and hi-tech meeting and collaboration space, as well as new data storage and high-performance computing facilities based in IC7's data centre. 
Professor Raphael Hirschi, Director of the Digital Society Institute, said: "Tackling global challenges such as the energy crisis and healthcare requires multi-disciplinary, intersectoral and often international efforts. The Digital Society Institute community will bring together the necessary expertise from across Keele as well as local and global partners to tackle these challenges and to create a better world using AI and digital technology responsibly."