First look at the future transformation of derelict Stafford department store
The first images of how a derelict department store could look on Stafford High Street have been revealed.
Stafford Borough Council has released computer generated images of proposals for the former Co-op building in the town's Gaolgate Street.
Last month senior councillors gave the green light to buy the large iconic store which has been empty for more than a decade with proposals to convert into a mix of retail, food court, residential and market use as part of a major transformation of the area.
The images show how the traditional parts of the front of the building in Gaolgate Street will be retained with the rest being transformed. The second image focusses on the rejuvenation of the inside of the old store and the potential for a food hall.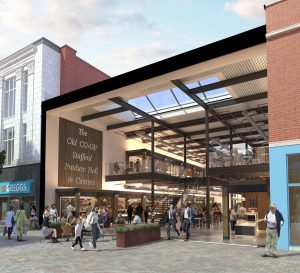 The money to purchase the store was secured by the council from the government's Future High Street Fund (FHSF). The FHSF has already supported the recent refurbishment of the town's Market Square and work to improve the approach and entrance to Stafford Railway Station, which will get underway in the coming months.
Leader of the council, Aidan Godfrey, said these were exciting times for the future of the centre of the county town.
"Improving the town centre was the number one issue for local people – and it is now the top priority of this council. We are pushing ahead with some fantastic plans for our town and it is exciting to have a glimpse of what this run-down, former department store could look like in the future.

Deputy Leader, Rob Kenney, who is leading on the town centre transformation, said: "What we are doing sends a strong message to potential businesses and investors that this is a town with big ambitions and a council who is prepared to take the lead to make that evolution happen.

"We will deliver a centre fit for the County Town, that residents will be proud of, businesses will want to invest in, and visitors will come to shop, eat and drink, socialise and spend their free time.

"Local people have waited a long time to see something happening and the plans we have for this prominent, disused building in the heart of the town centre is a huge statement of our intent."
Confidential discussions are still taking place around other changes to the town centre which form part of the Future High Street Fund programme.
There is significant investment being made in the county town with other projects underway or recently delivered such as the Staffordshire History Centre and the business hub at Shire Hall, which is reaching full capacity, and plans taking shape around the Stafford Station Gateway and Eastgate areas of town.