Keele launches plan to aid local post-pandemic recovery
The Deal incorporates a number of ambitious projects led by Keele, including a further expansion of the University's Science and Innovation Park to attract high value digital, life science and food security organisations into the local area. Innovation Centre 7, set for completion in Spring 2022 and specialising in digital enhancement, will enable more than 300 SMEs to benefit from a data analytics transformation programme, adding to the 600 local businesses that Keele has supported through the New Keele Deal, launched in 2017.
This latest Deal will also see the University working with local partners to develop responses to the increasing job losses and the changing labour market caused by the pandemic, ensuring that the current and future generations of workforce are equipped with the skills and knowledge necessary to succeed.
A further example of the Deal's impact will see Keele build on its existing partnerships with healthcare organisations to undertake collaborative research into the long-term implications of Covid-19, informing local care planning and supporting clinical education needs.
Speaking at the launch of Keele Deal | Recovery, Professor Trevor McMillan, Vice-Chancellor of Keele University, said: "This Deal will create another step change in our contributions to the local area, broadening our ambitions to create a comprehensive institutional endeavour covering all aspects of life affected by the pandemic.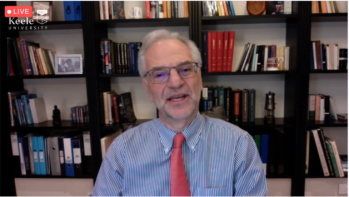 "The New Keele Deal, which was launched just over four years ago, led to one of the largest university-led regeneration programmes in England. Our goal with this latest Deal is to further demonstrate the difference a university can make to the fortunes of an area when it shows collective leadership, listens to and works with others, and delivers on shared priorities."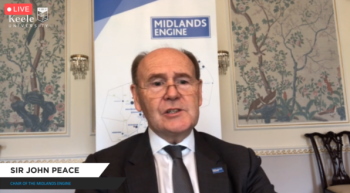 The event featured a keynote speech from Sir John Peace, Chair of the Midlands Engine Partnership and Midlands Connect. He said: "Keele's impact on the regional economy will support hundreds of local businesses and jobs, and save 1,000s of tonnes of CO2 emissions. Their focus on recovery – and that of other universities across the Midlands – is an essential cornerstone for the tremendous recovery efforts that are being made, and we all must endeavour if we are to rebuild our economy.
"It's clear that the Midlands is leading the way in energy and green growth, in health and life sciences, and in digital connectivity. So I'm delighted to see Keele University, and its partners in the region, highlighting these themes as being so crucial to economic and social recovery. It's not enough just to have economy recovery alone – we have to help people, of all walks of life, live their life better.
"And never have initiatives like the Keele Deal been so important to champion collaborative working, and urgent action in these areas, that will allow us to build back – build back better, stronger and greener."
Sara Williams, Chief Executive of Staffordshire Chambers of Commerce, added: "Keele Deal | Recovery is a fantastic innovation, and what we would expect from one of the leading universities in the country. The Deal will support and help the whole of our economy and all of our communities to recover from the devastating effects of the pandemic.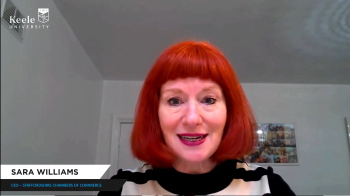 "I am sure that Staffordshire businesses, and our people, are resilient and will bounce back. But we have a lot to learn and much to recover from – and Keele's recovery deal is just what is needed for this. All of the key drivers for business, and changes that are coming our way, are all written large within the Deal.
"It's fantastic to see a university taking a leadership role and to really understand what is needed for an area to recover. I really hope that we can all work in partnership with Keele to make this happen, and I know that Staffordshire Chambers and the Staffordshire business community are all keen to do so."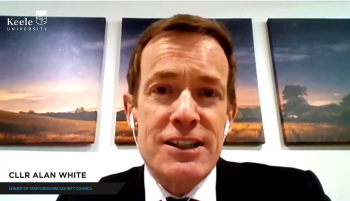 Speaking of Staffordshire County Council's support of the Deal, Leader Cllr Alan White said: "Since Keele University launched its Keele Deal Economy in 2017, the University has delivered a range of projects and initiatives that have supported economic and skills growth in Staffordshire, including helping with challenges of recovery faced by our town centres.
"Whilst there is no doubt that Covid-19 has had an unprecedented impact on our economy, with the support of the University and our other partners, we are still ambitious for Staffordshire's growth, recovery and renewal."
More information about Keele Deal | Recovery is available online at keele.ac.uk/keeledealrecovery