Staffordshire's 2023 Ambassador of the Year announced at awards ceremony
A Staffordshire Ambassador has been recognised for his role in promoting the county at an awards ceremony.
We Are Staffordshire's Ambassador of the Year was announced at the Staffordshire Chambers of Commerce Business Awards, which took place on 13th July and celebrates the best of the county's businesses.
The Ambassador of the Year award recognises businesses or individuals who have gone above and beyond to tell the Staffordshire story – taking part in events and working hard to promote the county wherever possible, with the winner being chosen by We Are Staffordshire businesses and supporters.
This year's award was presented to Philip Carter of Ornua Foods, Leek, who was one of five finalists shortlisted.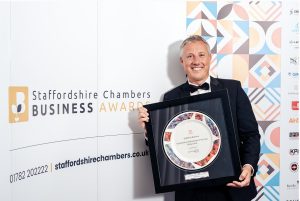 Phil is the Business Unit Director for Ornua, who supply over 40% of the hard cheese sold in UK retailers and are category leaders. He is also on the organising committee for Love Cheese Live, which takes place in Staffordshire annually. It is one of the UK's largest Cheese, Food & Drink Festivals and around 10,000 people visit the two-day event.
There are now over 200 Staffordshire Ambassadors who have pledged their support to We Are Staffordshire and their work to bang the drum for the county.
This will be the second year for the Ambassador Award. Phil follows in the footsteps of previous winners, Gill and Will Sherwin of Newcastle-under-Lyme based Best of British Beer
Hundreds of business owners and leaders attended this year's Staffordshire Chambers of Commerce awards at the DoubleTree by Hilton, Festival Park, Stoke-on-Trent. Phil was presented with his award by We Are Staffordshire Place Campaigns Officer, Louise Shaw and Head of Communications at Staffordshire University and We Are Staffordshire Place Board Member, Mary-ann Astle.
Phil said: "Winning this award means so much to me personally. I am really passionate about what Staffordshire has to offer and immensely proud to call Staffordshire my home and place of work.

We have so many wonderful assets here in Staffordshire and in a world where the media landscape can seem so bleak we have to remind ourselves that we are hugely fortunate and privileged to be part of a county that is growing, thriving and has an amazing future ahead of itself.

Being part of the Ambassador network and attending events is immensely fulfilling; sharing stories, developing ideas and getting to know some of the people that make Staffordshire so amazing has helped me develop my own personal and professional skills. It's also a great way to meet new friends and likeminded people, not to mention being treated to some great coffee and cake.

If anyone that is reading this and thinking that they would like to be a part of this organisation and shares my passion for Staffordshire then it's perfect for you. The team at We Are Staffordshire are really welcoming and provide lots of support and opportunities to be part of a fun community."

Staffordshire County Council's deputy leader and cabinet member for economy and skills Philip White said: "It's fantastic to see the Staffordshire Ambassador category once again at the  Chambers of Commerce Business Awards. We want to raise awareness of our ambassadors and all the work they do in promoting Staffordshire as a great place to live, work, explore and invest. Thank you to the Chamber for once again partnering with us to promote this award.

"Staffordshire Ambassadors provide amazing support, engagement and donations for our events and activities. Phil thoroughly deserves this recognition for the work he does to support our place making efforts.

"I'd like to commend all this year's finalists, who go above and beyond to promote Staffordshire and all it has to offer."

Louise said: "Phil is a Staffordshire Ambassador who is passionate about the county and promoting Staffordshire. He attends our ambassador events and spoke at our 'A Taste of Staffordshire' event last year as well as giving away produce during the event.

He engages regularly with us on social media to promote and amplify our work. He ran a promotion for discounted tickets to Love Cheese Live for Staffordshire County Council employees and Staffordshire Ambassadors and submitted a video testimonial in our bid for 'Place Brand of the Year' at the City Nation Place Awards. He is always willing to go the extra mile to support us."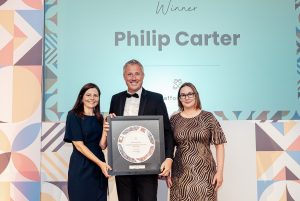 Congratulations to the other shortlisted finalists:
Claire Twaites, Josh Chadwick (The Tawny), Kim Thorley (Keele University), Simon McEneny (Newcastle-under-Lyme Borough Council).
Find out more about their work to support We Are Staffordshire.
Join the We Are Staffordshire Ambassador Network.